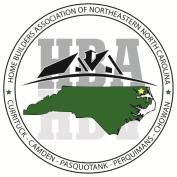 HOME BUILDERS ASSOCIATION
of
NORTHEASTERN NORTH CAROLINA
Supporting and serving our members by providing networking and educational opportunities and advocating progressive growth in our communities.
Contact Info
Home Builders Association
of Northeastern North Carolina
P. O. Box 59
Aydlett, NC 27916
(252) 453-6668
Email: hbaofnenc@gmail.com
RENEWING YOUR MEMBERSHIP
Membership renewal invoices are sent to each member approximately 3-4 weeks prior to the anniversary date of your original membership. To renew simply return a copy of the invoice with your payment to HBA of NENC, P. O. Box 59, Aydlett, NC 27916
OR
Fill out the renewal form below and submit form, then choose your payment option(s) and follow prompts. Your membership will automatically be renewed! Questions? Call the office at 252-453-6668.
THANK YOU FOR SPONSORING THE HOME BUILDERS ASSOCIATION OF NORTHEASTERN NORTH CAROLINA