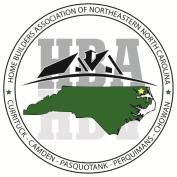 HOME BUILDERS ASSOCIATION
of
NORTHEASTERN NORTH CAROLINA
Supporting and serving our members by providing networking and educational opportunities and advocating progressive growth in our communities.
Contact Info
Home Builders Association
of Northeastern North Carolina
P. O. Box 59
Aydlett, NC 27916
(252) 453-6668
Email: hbaofnenc@gmail.com
CATEGORY: FLOORING & INSTALLATION
CAMCI Carpet Installation
Charles Meads
(252) 202-2605
camci@roadrunner.com
Web: camcicarpet.com
(All types of flooring installation & repairs)
Kevin Chase
252-333-1162
Web: ncearthstone.com
(Natural Stone, Tile, Carpet, Hardwood, LVT, Stone Veneer, Cabinetry and Countertops)
Ellis Carpet & Tile
James Ellis
(252) 482-2610
ellisnellis@net-change.com
(Carpet & Flooring)
Final Touches Carpet & Install
B Eckenrode
(252) 338-0261
soundteamlee@live.com
(Flooring Supplier & Installer)
Interiors by H & W
Mike Albertson
(252) 335-9679
malbertsoninteriors@hotmail.com
Web: interiorsbyhw.com
("Great Floors at a Great Price")
Kempsville Building Materials
Berry Payne
(252) 264-2323
bpayne@kempsvillebuilding.com
Web: kempsvillebuilding.com
(For all your flooring needs from carpet & hardwood to Tile & LVT)
Stumm's Hardwood Floors, Inc.
Robert Stumm
(252) 335-9288
stummshardwoodfloors@msn.com
Web: stummshardwood.com
(sales and installation of laminate, cork, carpet, ceramic tile, vinyl flooring and window blinds & floor refinishing services)
THANK YOU FOR SPONSORING THE HOME BUILDERS ASSOCIATION OF NORTHEASTERN NORTH CAROLINA