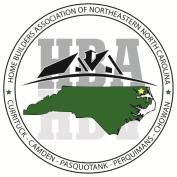 HOME BUILDERS ASSOCIATION
of
NORTHEASTERN NORTH CAROLINA
Supporting and serving our members by providing networking and educational opportunities and advocating progressive growth in our communities.
Contact Info
Home Builders Association
of Northeastern North Carolina
P. O. Box 59
Aydlett, NC 27916
(252) 453-6668
Email: hbaofnenc@gmail.com
Meet Our 2017 Board of Directors & Staff
Lauren Hill-Spruill, President
Piedmont Natural Gas
(252) 264-3759
Gary Eure, Board of Directors
Gary Eure Plumbing &
Electrical, LLC
(252) 264-2103
Ken Corbo, Vice-President
Corbo Custom Homes, Inc.
(252) 232-3825
Randy Krainiak, Board of Directors
Camden Services
(252) 312-0019
Wink Foster, Treasurer
Elizabeth City Brick Co.
(252) 335-2965
Mack Nixon, Board of Directors
Albemarle Home Builders
(252)
Berry Payne, Secretary
Kempsville Building Materials
(252) 264-2323
Norma James, Board of Directors
Tommy James Builders
(252) 330-4855
Troy Meads, Immediate Past President
Meads Home Builders, Inc.
(252) 331-5933
HBA STAFF
Sheryl Ann Lovitt, Executive Officer
(252) 453-6668
An all-volunteer Board and one part-time paid staff member currently direct the Home Builders Association of Northeastern North Carolina and act as its governing Board.
THANK YOU FOR SPONSORING THE HOME BUILDERS ASSOCIATION OF NORTHEASTERN NORTH CAROLINA